Nowadays, more and more people are looking for possible income earning opportunities online. There are lots of opportunities and companies out there that will tell you that you can make money for doing all sorts of things. However, you have to be careful as some opportunities are just to-good-to-be-true and you do not want to be scammed.
One opportunity worthy of taking a look at is the Genesis Mining company. An honest Genesis Mining review is in order before you get into it and make money. The first thing to know about this company is that it is aligned with Cryptocurrencies and the most popular of them all is Bitcoin.
What is Cryptocurrency?
Cryptocurrency is a virtual or digital currency. Since it is a digital currency, there is no need for any bank to keep it. Digital currencies are kept online and can be transferred from person to person without the need to go to a bank or financial institution. It can conveniently be transferred anywhere and anytime you want by the use of a computer or a mobile phone.
The bitcoin is the most popular of all the cryptocurrencies out there and it is said to be the money of the future. The popularity of bitcoin is progressively growing and its value is also increasing overtime. That is why it can be a great investment. There's more information about cryptocurrencies and bitcoins online for those who wish to gain a more extensive knowledge about digital currencies and how to maximize them as investment instruments.
Genesis Mining Overview
Genesis Mining was founded in 2013 and its registered address is in Iceland. It is possibly the biggest and the most recognized cloud mining company in the market today.
They provide state-of-the-art mining rigs for bitcoin, etherium, dash, litecoin, and other alternative coins. This means that you have a lot of other options for mining different cryptocurrencies. You can also cloud mine altogether at the same time.
Cloud mining is an easiest way to put more coins in your account without having to understand technicalities. It is essential to know that you will have to provide funds if you want to increase your coins. It is either in the form of investing in cloud mining or purchasing a physical mining hardware.
The very reason why it is a good idea to choose cloud mining services like Genesis Mining is because it is online. You do not have to worry about setting up your own complicated mining hardware at home and deal with high electricity costs and noise pollution. You can simply leave the management of the company to those who run it.
Their website is very appealing and has a professional design. It is operationally convenient and very easy to understand. Once you have set-up your account with them and funded it with some coins, you can start mining and receiving daily pay-outs.
As the bit coin is the most well-known digital currency, this Genesis mining review will focus more on mining this cryptocurrency.
Genesis Mining offers an open-ended bitcoin mining contracts. They have Gold, Platinum, Diamond and Custom Plans that you can choose from based on whichever suits you the most. They have also low maintenance fees. It has no expiration and you can continue to mine bitcoins as long as it is profitable.
Profitability is determined by mining difficulty, currency exchange, and maintenance fees. Sadly, the beginning two factors are unpredictable. For example, if the mining doesn't give enough profits and the currency exchange is too low to cover the maintenance fees, it will stop at some point in time. It does not guarantee that you will continue to earn profits or that you will earn profits at all.
Is Genesis Mining A Scam?
The Genesis Mining Company is definitely not a scam. It is reliable and it has already established a reputable name online. Through the years, they have also gained a large number of customers. This company is true to what they say. They will provide the latest and advance technology for you to start cloud mining immediately.
However, there is no guarantee that investing your coins with them will really give you profits. Remember that investing involves risks. The fact that cloud mining cannot guarantee earnings for you and entails big risks is perhaps why it looks like the process of cloud mining itself is a scam.

Getting More Out of Mining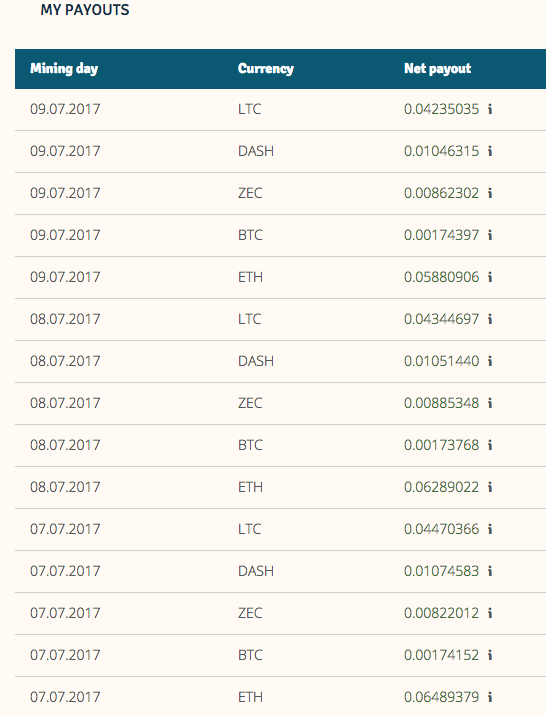 One of the reasons why this cloud mining platform is increasingly becoming popular is the potential for bitcoins to increase in value over time. This cryptocurrency can be a good way to make passive income. Naturally, more and more people are looking for ways to boost their bitcoin accounts. Genesis Mining offers a legitimate opportunity for you to get more out of your cloud mining activities.
Buying additional bitcoins is the most suitable option if you really want to increase the amount in your bitcoin wallet. When you invest your money by buying additional bitcoins, it is likely that you will earn more profits than when you merely invest your money in cloud mining contracts. This way, you will have more bitcoins and when its value increases over time, you will earn more.
There are a lot of Genesis Mining reviews around the internet and it would be good to take them with a grain of salt. There are some that are not really telling the truth. I found myself doubting especially when I noticed that the reviews with positive feedbacks were followed by personal promotional codes. The ultimate purpose is to make someone believe in them and sign-up with their codes so in return they will earn money from it.
Genesis Mining Review – Conclusion
So, do I certainly recommend Genesis Mining? Honestly, no, I won't recommend it. Though the Genesis Mining Company is legit, I do not really believe that investing in cloud mining is worth it. Meaning, I also do not believe that there are better cloud mining companies out there.
If you have spare money and you want to increase your bitcoins, then buy additional bitcoins instead of investing it in cloud mining companies. Do not take the risk of putting your hard-earn money in a cloud mining company and even in a mining hardware at home. It has a bigger chance of losing more than earning.
Moreover, the biggest reason why I do not recommend Genesis Mining is that I have not personally experienced using it. So if you want to take the risk, it's up to you to decide so, but always keep an eye out for red flags so you can get out without considerable loss.
If you want to start earning daily crypto payments then you should join Genesis Mining, and if you do make sure you use coupon code : bvG0MO for 3% OFF!