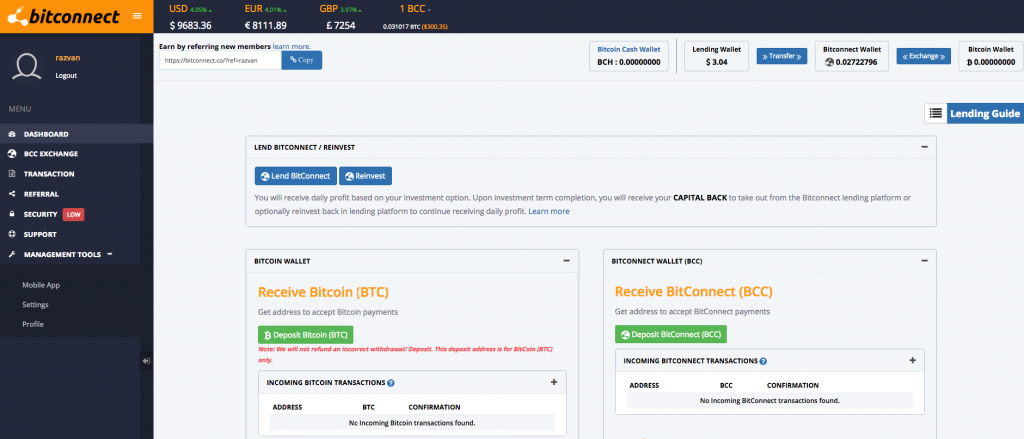 The past few weeks has seen Bitconnect getting quite a lot of buzz from network marketing people. Most likely, some of your friends and acquaintances have been trying to get you to buy Bitconnect via your social media feeds. Thus, you may be interested to learn more about Bitconnect before making a decision to join. This Bitconnect review intends to provide the information you need.
What Is Bitconnect?
So, is there a Bitconnect scam? Before answering that, it is a great idea to first get some information about Bitconnect and see what the company brings to the table.
Registered only in 2016, Bitconnect is among the newest MLM opportunities to join the fray. A visit at its website, however, would not yield a lot of information. It doesn't reveal who owns the company and where it is based, among others. All you will get is an invitation to join as an affiliate member.
How It Works
The company says that you can convert your Bitcoin units into Bitconnect coins. You then invest the currency into the platform to earn interest daily. You can earn at least 0.95% on the average in daily interest. You can withdraw your interest earnings in cash or you may opt to reinvest to allow your investment to grow exponentially with compounded interest. There is a lock-in period for your initial investment. The number of days will depend on the amount of your investment.
Simply put, you can get your investment back the more money you invest. With a bigger investment, you can also earn more bonuses in terms of daily interest.
A word of caution, though. This type of investment comes with high risks. Thus, you must limit your cryptocurrency investments to an amount that you are willing to lose. In fact, you should have this mentality for any investment you make.
As it is, Bitconnect tries to leverage a very volatile market to its advantage. They trade Bitcoin as the price of the virtual currency goes up and down. As jaded traders would say, your potential profits increases as the market gets more volatile.
Bitconnect Products
Just like its official website, there is likewise not much to talk about the products or services that Bitconnect is offering. This is because there is really none. With nothing to sell to retail customers, you cannot find a lot of retail sales activities within the MLM opportunity. As mentioned, they only offer affiliate membership.
As people familiar with MLM would know, retail sales is a key factor for success in an MLM opportunity. The absence of sales activities is often a red flag that should dissuade you from joining. As some Bitconnect reviews would point out, it is usually a sign that something does not seem right.
The Bitconnect Compensation Plan
Affiliate members can earn on a daily basis by investing in the company using either real cash or bitcoin. The company refers to the investors' ROI as "daily profit." Members are paid their daily profit based on the amount of their investment.
There are 4 major investment levels. These are:
Investment of $100 to $1000 – This gives the investor access to monthly ROI of 40%. Daily profits are paid for 299 days.
Investment of $1010 to $5000 – With this type of investment, the member gets access to a 40% ROI that will be paid for 239 days. The investment also comes with a 23.9% bonus ROI.
Investment of $5010 to $10,000 – By investing within this range, the member gains access to a 40% ROI that will be paid for 120 days. The investment also comes with a 30% bonus ROI.
Referral Commissions – Along with direct ROI payments, members can also earn from referral commissions. Commissions are paid as a fixed percentage of the invested amount of your affiliate downline within the company.
A uni-level system is used to give out commissions. Level 1 or the affiliates you have recruited personally will yield 7% at the most. The system allows you to earn from an endless number of levels. However, the percentage of your earnings will decrease as the number of levels go deeper.
The Cost to Join Bitconnect
While you have the option to join Bitconnect at no cost, you need to make an investment anywhere from $100 to $100,000 if you want to be an active member, and take advantage of the high earning potential that the MLM opportunity offers.
The Verdict
I joined bitconnect about 3 months ago with $100 investment and I made back $490 , which i'll kept reinvesting untill I'll make $30 or so per day , then I'm gonna start taking half out and reinvesting the other half. A friend of mine now makes $100 per day with $100 initial investment. He took out about $4000 and he did this in 1 year time by reinvesting everyday and compounding.

You are now equipped with all the important information about Bitconnect. The decision on whether or not to invest with the MLM company is up to you. While you can potentially earn a lot of money, the inherent risks are also very high. For one, a dip in investing activity may eventually cause the company to collapse.
Weigh your options well. Sure, the chance to earn 40% ROI looks quite enticing. Bear in mind, however, that if the promise seems to be too good to be true, you can expect the risks to be unusually high. Likewise, you must not discount the idea that it may not deliver.
This guy is making a killing with bitconnect , check out his video below:
<